Benson Myles Law Offices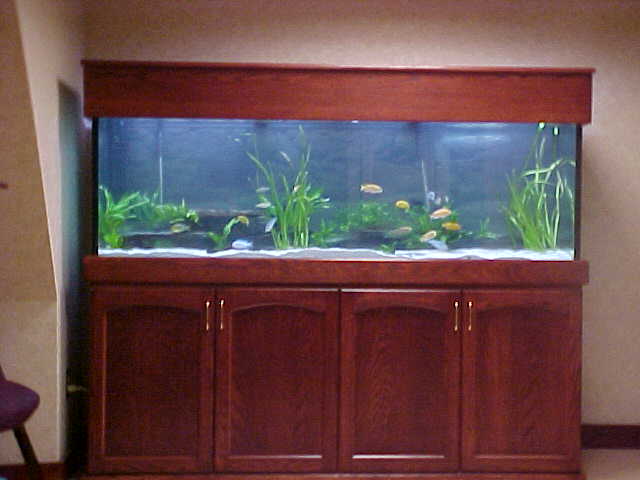 I installed this 130 gallon aquarium, which is six feet long, in April of 2002. It contains a healthy assortment of African Cichlids all of which were originally born in my aquariums in Holyrood. These fish have themselves had several generations of young in this tank.
The aquarium lights work on a timer as does the automatic feeder which is concealed under the heavy oak canopy. ( the entire stand and canopy are oak that was stained with cherry stain to match the wood in the office ). There is only one Aqua-Clear 500 filter on this tank, and a quick filter working on a power-head. I have two 300 watt heaters to heat this tank.
The filter is on the back of the tank, and all of the electrical work, extra food, nets and other accessories are in the cabinet beneath the aquarium.
As the water in this area of St John's is not suitable for African Cichlids, being acidic in nature, I have given this tank a base of aragonite which buffers the pH to the required 8.2 and also add epsom salts, potassium chloride and Tetra Cichlid Vital to add the extra minerals that they need to live and breed.
I try to keep live plants in the aquarium, but Java Fern is about the only one that these fish do not tear into shreds and consume.
You can click on any photo below to enlarge it.
these two mini movies below cannot be enlarged.